DREAMS are:
IT SEEMS TO ME THE AUTOS OF THE FUTURE SHOULD HAVE
25 TIMES LOWER MASS COMPARED TO THE TODAYS CARS.
The REAL tiny autos COMPUTER CONTROLED powered by Edwin Gray engines
navigated by satelite system GALILEO better then GPS, SENSORS and cameras.
THANKS TO GENIUS SOFTWARE DO NOT NEED TO MEET ON THE CROSSROADS TO SAVE ENERGY...
To call auto like TAXI by mobile GSM, set on the BOARD COMPUTER
a destination and push a BUTTON for 3/2 (1,5) person.
If more person is needed to transport, call more autos.
If you want to transport load, call a lorry.
The autos could be even sent with load without any person.
Then whole length of paths can be minimalized.
It could be called the nearest FREE auto by mobile.
These AUTOS could lay down on the motorways - to use 3rd support wheel
to achieve velocity 100 [km/h].
NO LIGHT AT NIGHT, BECAUSE THERMOCAMERA should be used
TRAINS & AUTOS INTEGRATED TRANSPORT SYSTEM
NO PERSONAL OWNERSHIP OF THESE AUTOS!
THEN THERE IS NO NEED TO HAVE SO MUCH CARS,
BECAUSE NO PARKING TO CLEAN UP CITIES!
THERE IS NO NEED TO CHARGE SUCH AUTOS.
TRAINS WOULD BE GOING WHOLE YEAR - CZECH REPUBLIC HAS DENSE GRIDIRON
TO TAKE RESERVES LIKE SQUIRRELS, TO BAKE A BREAD AT HOME.
END DIRTS ON THE ROADS. ATTEND BEAUTIFUL SNOWY LANDSCAPES
WITH SKIES. ACUTE CASES WOULD BE SOLVED BY SNOW SCOOTERS
ACROSS COUNTRY EVEN OUTSIDE ROAD NETWORK.
Michal Martiný
P.S.I like the shape as is http://www.cheniere.org/misc/gray.htm
The two wheels SEGWAY is more advanced vehicle. http://www.segway.com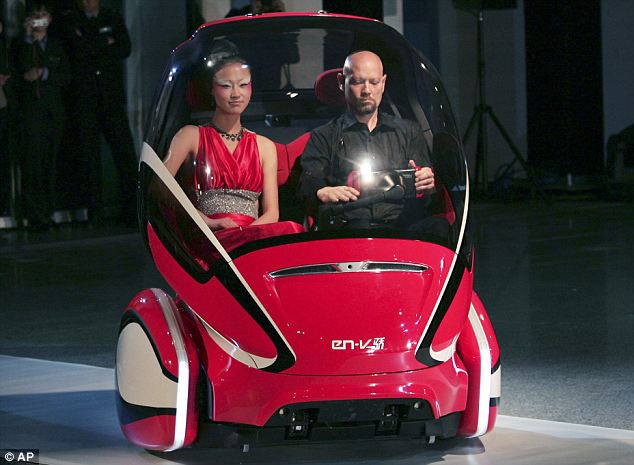 People spend a lot of time of their lifes in autos. My imagination is,
to give possibility also to work in auto, or only to enjoy it with
computer connected to Internet and the passage does could
then be composedly longer. New technogies should also bring
good strain for persons because they can sleep in autos while they move.